Home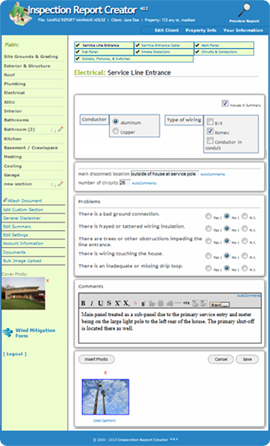 The latest in inspection report technology is now available for an ultra-affordable annual fee!
Collect your data and enter it later, or use your favorite electronic device to collect on site!
---
Cloud-based inspection report software.
Use any PC / Mac / Android / iPad
Use your smartphone
Collect your data with paper and input later
Easy-to-use professional report software
Inspection Report Creator enables you to create professional looking reports complete with pre-written narratives, digital photos, and more. Use pre-built forms that ask you common problem questions, component types, and autocomment libraries to produce electronically deliverable (and printable) reports that clients love and realtors demand.
Unlimited Reports / Annual Pricing:
$395 first year
$199 annually for additional years
Don't Have a Mobile Device?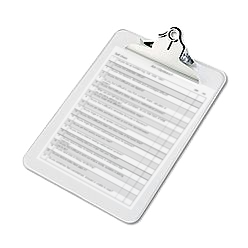 If you don't have a mobile device, you can use the printable checklist in the field and type your inspection data into the software whenever you get back to your home or office computer. The online forms give you the ability to print a customized checklist at any time so you can print a paper checklist to use on the inspection and type your data into the online forms later.
Collect your data with paper and pen and enter it later, or use your favorite electronic device to collect on site!
We have solutions no matter your preference! Use a clipboard, paper, and pen to fill out your inspection checklist or subscribe to a 3G or 4G LTE Internet plan if you don't have one already. 3G and 4G LTE Internet plans are very affordable and you can even pay month-to-month if you don't want to sign up for a contract.
Easy-to-Use Inspection Software
Step one: Collect any amount of data, one item or one section
Step two: Click save, the data is saved on the internet
Step three: Continue until you are finished with the inspection
Step four: Preview or print report
Print on location
Call the client, have them print from their location
Go to your home/office, print from there
Email report to a client.
Drive to meeting location, view report with client
Inspector-Friendly Home Inspection Software
Inspection Report Creator software is industry- compliant home inspection software that follows national standards of practice for professional home inspections, pest inspections, energy audits, and mold inspections.

The software contains an easy-to-use interface with thousands of auto comments and editable condition lists that can be adjusted to meet your preferences. IRC also supports multiple forms of input including voice recognition and mobile platform support.

Comprehensive, Full-Featured Home Inspection Software

Powerful, Easy To Use Report Software
Inspection Report Creator delivers more than just powerful, easy-to-use report software. It empowers inspectors by giving them complete control of their home inspection, mold, or pest reports right down to the way they record data. Experience the benefits of time-saving features, ease of use, and powerful performance.
Home Inspectors' Success Stories
Hear about our our customer's experiences using Inspection Report Creator. Read about IRC features that our customers rave about!
Home Inspection Software Success Stories
Inspection Report Creator represents the foundation for home inspection software. Built on a robust infrastructure and delivered through multiple sources including on-demand updates through the Internet, the components of Inspection Report Creator work together seamlessly to give home inspectors the ability to create and manage home inspection reports, mold inspection reports, energy audit reports, and pest inspection reports with minimal effort.
About the Company
Inspection Report Creator is the market leader through its comprehensive suite of inspection report applications that help home inspection companies of every size meet the complex challenge of creating and managing home inspection reports, mold reports, energy audits, or pest inspection reports. Inspection Report Creator's marketing, service & support are unmatched in the industry and backed by a money-back satisfaction guarantee. The IRC software platform's point-and-click customization and ease of use allows customers to create their own inspection templates with auto comments and customization that suites their needs.
InspectionReportCreator.com
has headquarters in Madison, South Dakota, and is a subsidiary of the Professional Home Inspection Institute. For more information, please visit
www.inspectionreportcreator.com
, or call 1-800-983-6322.