Features
Inspection Report Creator has many features that make it invaluable as a home inspection, mold inspection, or energy auditing software program. Auto-comments, unlimited forms, and ease-of-use make Inspection Report Creator a turnkey solution to automate your reporting and increase your bottom line.

Checklist, narrative, and combo style home inspection reports
Produce Adobe® Acrobat® PDF reports or web-based interactive html format inspection reports
Unlimited customizable inspection forms for specialty services
Mobile compatible for data collection from Android, iPhone, iPad, Tablet PC, Laptop, and more
Customize your forms online and print a checklist to collect your data in the field
Company logo and personalization
Tracks finished/unfinished sections of the report;
Prints only the sections inspected
Unlimited auto comments for defects, with customization
Autocomments: comments used most are listed first ( great time-savings! )
Fully customize each report section
Create customized versions of any forms available in the software
Summary Button instantly creates a summary of all your comments
Instant preview screen of entire report
Data saved instantly and stored in secure server (no loss of data during an inspection!)
Access your inspections and reports from any computer or device connected to the internet
Home Inspection Report Creator
(Click for more info)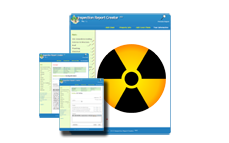 The Radon Report Creator software allows you to create and save your radon measurement reports online. This is especially useful with radon reports because the data for a radon report must be collected over a period of more than one day. This system allows you to start a report and easily access it at any time to update the data as it becomes available. Managing multiple radon test reports has never been easier!
---
The IRC software allows you to create custom software reports, with an easy to use interface. As an inspector in any field, you can create customizable report templates then use them over and over. Our staff will assist you in learning how to create a template, or we can create templates for an hourly fee.